On average there are 2,000 cyclist claims per year with ICBC and in 1,600 them, a cyclist was injured.  Cyclists often suffer significant injuries when they are involved in collisions with motor vehicles.  It is not uncommon for cyclists to sustain soft tissue injuries, fractures, and brain injuries as a result of collisions.  Sometimes the injuries are very severe and are considered to be catastrophic because of the impact they have on the injured person's life.  Sadly, in slightly less than 1 percent of cyclist claims with ICBC the injuries sustained resulted in death. Depending on the circumstances, a cyclist death may merit a claim for wrongful death.  Recovering from the injuries sustained in a bicycle accident is often difficult and may involve months or years of treatment and therapies to recover to a person's fullest potential.  Sometimes a person never fully recovers and must live with a long term disability that impacts their capacity to earn a living and results in a reduced quality of life and ongoing expenses.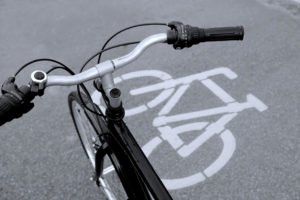 Even if there is no collision, the careless operation of a vehicle can result in bike accidents and injuries that may be significant.
If the cyclist is partially at-fault for the accident, he or she may be able to claim no-fault or part 7 benefits that can help to offset the expenses associated with recovering from their injuries.
If you are a cyclist injured by a motorist in BC, you are entitled to make an injury claim through ICBC. However, there are time limits to making an injury claim and working with a lawyer experienced in handling bicycle accident ICBC claims helps to ensure that you are compensated fairly and fully.
If you are a cyclist who has been injured in a bike accident that did not involve a motorist, you may also be able to make an injury claim depending on the circumstances and should speak with a lawyer knowledgeable in BC injury law to help ensure that your claim is handled effectively.
If you are a cyclist who has been injured in an accident, please call League and Williams for a thorough assessment of your legal choices.  We guide our clients to make informed decisions and enable them to focus on their recoveries while we ensure that they receive full and fair compensation for the harms suffered.  An initial consultation is free, if we don't succeed, we work for free, we only work for accident victims and we will ensure you get access to the treatment you need to recover.
We serve clients in Victoria, Duncan, Nanaimo and Campbell River, across Vancouver Island and throughout British Columbia.  Call 250-888-0002 or email to start your recovery today.