When you are in a boating accident it is wise to hire a lawyer that has expertise with boating accidents. Most injury lawyers specialize in car accidents and slip and falls. Very few have any experience in boating accidents. League and Williams is one of few British Columbia law firms that has significant expertise in boating accidents.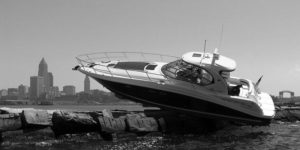 Special rules apply to boating accidents that will affect your rights. For example, did you (or your lawyer) know that a waiver may not be effective in preventing you from suing for a boating accident? Did you know that there is a presumption of negligence on the part of the vessel owner for certain types of boating accidents? Did you know that there is a limitation on the amount that a boat owner may have to pay in the case of a boating accident, and that in some cases this limitation can be broken? Did you know that the amount of time you have to sue for a boat accident is often different than for other kinds of personal injuries?
Unlike motor vehicle accidents, boat accidents require special expertise in the law, but also practical experience in dealing with how boats operate and navigate. The circumstances leading up to a boating accident are foreign to many lawyers and it is important that an injured person have a lawyer that has specific experience and insight into how boats operate and how accidents occur.
Darren Williams was raised on boats and began working as a deckhand on boats at the age of 11. Before becoming a lawyer he spent several thousand days at sea working on a variety of different boats. Since becoming a lawyer he has worked closely with master mariners, naval architects, marine engineers and a variety of other professionals on boating accident cases ranging from single person jet skis to thousand foot long freighters.
Some law firms that practice boating accident claims in British Columbia are not able to help the injured party because that law firm works for the boat owner or their insurance company. League and Williams does not typically work for commercial boat owners or their insurance companies, and has represented many people injured in both recreational and non-recreational boating accidents. League and Williams handles the majority of its cases on a contingency basis, meaning if their efforts do not result in compensation to the victim than the victim pays no legal fees.
If you or someone you care about has been the victim of boating accident – call or email the injury lawyers at League and Williams for a free consultation, our legal team has the experience to help you recover.